Maxpedition Tiburon Backpack Review
Every so often there comes a pack that I truly use every day no matter what I am doing during my review and time with testing the pack. Some packs really excel in certain areas and lack in others, some cover all areas well but lack perfection. The Maxpedition Tiburon is hands down the most well-rounded backpack I have ever had the pleasure to use. The Tiburon comes in at $260 US which is not cheap, but in my eyes... worth every cent. The pack comes in Black, Tan and Grey. I was given a discount off MSRP from Maxpediton in exchange for my review and purchased the pack with my own money. This does not affect my review of the pack in any way.
The Maxpedition Tiburon is an EDC backpack capable of everything from riding on the back of an ATV with camera gear, medical kit, my CCW, lunch, and other smaller EDC items all the way to my daily shift bag when I head up to the Fire Station and everything in between. I took the Tiburon on my recent trip to Beuna Vista, Colorado, where I used it for hiking, ATVing, and daily use carrying not only my gear but the girlfriends as well. I have also been using the Tiburon as I mentioned as my pack for when I shift at the Fire Dept, my gym pack, and my regular EDC bag.
The Tiburon is a 34L workhorse of a pack. Below are the materials and dimensions -
Materials
1000-Denier water and abrasion resistant light-weight ballistic nylon fabric
500-Denier Hex Ripstop water and abrasion resistant light-weight ballistic nylon fabric
Triple polyurethane coated for water resistance
High tensile strength nylon webbing
High tensile strength composite nylon thread (stronger than ordinary industry standard nylon thread)
#AS-100 high-grade closed-cell foam padding material for superior shock protection
Internal seams taped and finished
Stress points double stitched, bar tacked, circular bar tacked or "Box-and-X" stitched for added strength
YKK® high strength zippers and zipper tracks
UTX-Duraflex® nylon buckles for low sound closures
Teflon® fabric protector for grime resistance and easy
Dimensions
Volume: 2075 cu. in. | 34 L
Overall size: 17 (L) x 12 (W) x 20 (H) in | 43.2 x 30.5 x 50.8 cm
Frontal top slip pocket: 8 (L) x 5 (H) in | 20.3 x 12.7 cm
Frontal lower pocket: 8.5 (L) x 1.5 (W) x 12 (H) in | 21.6 x 3.8 x 30.5 cm
Side pockets: 4.5 (L) x 2.5 (W) x 11 (H) in | 11.4 x 6.4 x 27.9 cm
Middle compartment: 12 (L) x 1 (W) x 18 (H) in | 30.5 x 2.5 x 45.7 cm
Main compartment: 11 (L) x 3.5 (W) x 18 (H) in | 27.8 x 8.9 x 45.7 cm
Waist belt maximum circumference: 60 in | 152.4 cm
Sternum strap maximum length: 10 in | 25.4 cm
Weight: 3.7 lbs.
Now that we have that covered I will get into the compartments of the pack.
Compartments
The first top front pocket of the Tiburon is a small quick access pocket that is big enough to hold your sunglass and some other small items. I normally carry my phone, headphones, keys, and wallet in this pocket. The zipper is covered by a flap off nylon to help shed water. This is the only zipper that does not have the Maxpedition pull attachment so the pocket can remain somewhat hidden.
EDC/Medical Pocket
The next front pocket on the Tiburon is the admin pocket. I use this pouch to carry all of my smaller EDC items including my Leatherman Raptors, a flashlight, a small screw tool, my knife, and Leatherman. On the inside of the pocket, there is a small zippered compartment which holds my medicine. On the back side of the compartment, there is a pouch that is large enough for a tube of sunscreen and pens/pencils. This pocket works great for my EDC items as it opens clamshell all the way down and you can grab or organze it the way you need. This pocket also works great as a medical pocket with the clamshell easy access opening.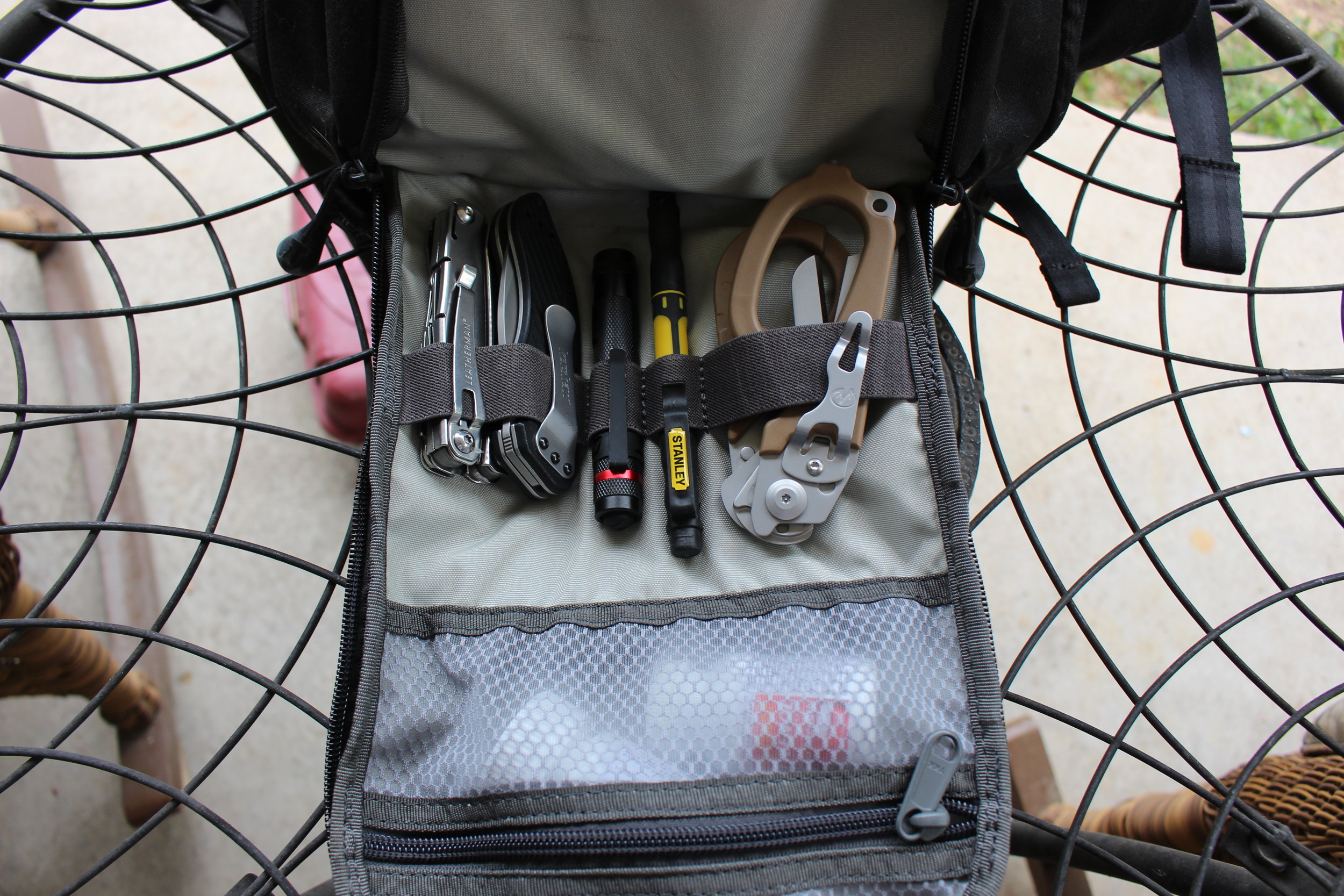 Fully Featured Tech Section
Behind the EDC pocket there is another fully clamshell opening pocket that has a fully padded and suspended Laptop/Tablet sleeve and a couple of large organizational pockets. This sleeve is where I will carry my laptop if I am or my CCW when I am not carrying my laptop. I love that Maxpedition put the laptop sleeve in the middle of the pack as opposed to the very back of the pack. This allows for more protection of the laptop/tablet and also keeps the laptop away from contact with your back which can lead to stress on the screen, like the Goruck GR1 laptop sleeve. The laptop sleeve is also suspended to allow you to set down the pack without worry on hard surfaces. On the outside section of the pocket, there are two smaller unpadded sleeves and a zippered compartment. I keep a medical notebook in one and my Garmin Fenix 3 heart rate chest monitor in the other. In the top zippered pocket I keep my portable charger and phone/tablet cords.
Padded, Bombproof Middle Compartment
On to the main compartment of the pack. Unlike the front two pockets, the main compartment does not open full clam-shell but about 90%. On of my favorite features of the Tiburon is that on the bottom of the pack where the main compartment touches the ground there is a small section of padding. This padding is found throughout the pack and does a fantastic job of not only helping safely carry expensive gear but adds needed structure to the pack. I have had padded backpacks before and they did a great job at protecting the insides, however, they were super stiff and when I didn't have them loaded out with gear they stayed stiff and looked like a box. The Tiburon can do both flawlessly.
The main pocket of the pack has the zippered pocket on the outside like the previous pockets and is perfect for larger chargers and cords. On the pack side of the compartment, there is a sleeve large enough for my laptop or books. On a normal Fire shift, I carry my notebooks, books, and Dept skills book with still plenty of room for an outer layer or other bulky items. When I load the pack for adventuring or gear testing I can carry both my DSLR and a spare lens, my GoPro kit, jacket, and some extra shoes. You can also carry a hydration bladder in the sleeve with the added bladder hook. There are openings on either top end side of the pack which you can run a hose through and down the shoulder straps. There are two drainage holes on either side of the bottom of the pack as well.
Easy Access Side Storage Pockets
On either side of the Tiburon, there is a smaller pocket for extra quick access items. On one side I keep my two sets of work/rescue gloves while on the other I keep some commonly used medical items. The pockets can fit a larger water bottle and have a lot more room than they look. Have these pockets on the side is a huge bonus for the Tiburon, many packs overlook this feature and just throw some mollee webbing on and call it a day which requires you to buy additonal pouches or bottle holders.
Yoke Style Suspension Back Panel and Straps
The last section of the Tiburon is the back panel and straps. Again one of my favorite suspension systems I have used to date. The suspension on the back straps is a yoke style system which means the straps do not directly connect to the backpack but have a section of padding coming off the pack which then runs into the straps. This allows the pack to rest easily on your shoulders and can be tightened or loosened with the load lifting straps on the top of the shoulder straps. The straps are perfectly padded with a mesh-like texture that feels great when carrying. The straps are also contoured and not just a straight piece of nylon. The Tiburon comes with an included chest strap and a storable hip belt. I usually run the pack with the hip belt packed away however, it is a huge bonus to have it available at any minute on hikes or heavy loadout days. The Tiburon is an extermely comfortable pack and rides perfect on me. I am 5'11 and 200 lbs for reference. Most packs straps tend to dig into my neck and make carrying for longer periods of time unconrtable. Not the Tiburon.
On the very bottom of the Tiburon, there is a small hidden pocket which can house a rain cover. The Tiburon is very water resistant but not "waterproof". I will be getting a cover to add to this pocket and also give the bottom of the pack some more padding which never hurts. There are also two compression straps on the bottom of the pack which can also act as an extra way of storing a jacket, shoes, or a small sleeping pad.
I can honestly say the Tiburon from Maxpedition is my favorite pack to date. It has all of the features I look for in an EDC/Shift pack. The zippers on the pack glide without hesitation after some use, when I first received the pack the zipper would somewhat stick, you just have to break them in. The pack is fully featured and made with the best materials possible, from the internal padding, YKK zippers, Ballistic Nylon, UTX Buckles, and the double stitched stress points. I cannot wait to see where the Tiburon takes me and how it continues to break in with use. The use of the 1000D Ballistic Nylon mixed with the 500-Denier Hex Ripstop makes the pack tough as nails yet still allows it to move with you. The AGR team from Maxpediton has hit a homerun with the Tiburon and is going to be a force to be reckoned with. I cannot wait to see what else the team over at Maxpediton comes up with and hope to test out some more of their gear.
SCORE - 9.8/10
+
Padded Backpack that can move with you
Side Storage Compartments
Tons of Pockets for Storage
Padded/Suspended Laptop sleeve
Yoke Style Suspension System
Molle Webbing for Attachments
Sternum Strap + Storable Hip Belt
Rain Cover Pocket
YKK zippers with Custom Zipper Pulls
Load Lifter Straps
My Favorite Pack To Date
-