Review: Granite Gear Kahiltna 29
The Granite Gear Kahiltna 29 is a versatile, lightweight trail machine that will support you whether you're heading home after a long day on campus or back out to the forest for some dirt time.
I recently sent over the
Granite Gear Kahiltna 29 to Ace-Outside for a guest review. Check out his blog for some quality content and more gear reviews.
First Impressions:
 
Whenever I get a bag, there's a ceremonial unloading of the old and loading of the new. While I'm doing this, I pay careful attention to my expectations: Do each of my EDC items have a place in this new bag? How intuitive is the layout? Are my expectations of what a good bag constitutes being met? Where are they being exceeded?
Here's the short form stream of consciousness of my first impression.
Is that hip belt removable/stow-able—yup!

The Black/Neolime colorway is a little intense, but it's high viz.

Where is Kahiltna? Longest glacier in the Alaska Range starting on the southwest side of Denali at 13,000 feet and moving 44 miles downhill to 1,000 feet where it terminates.

It's got that classic Granite Gear 10mm webbing for compression.

The organization is okay. I never liked the organizational pocket being a symmetrical, yet smaller version of the main compartment, and placed low and away on the face of the pack. It's that classic Jansport style Right Pack pocket. I hate that. That's the worst place for a pocket.

The frame isn't long enough for me. Spec sheet says fits 18-21'' torsos. I'm right at 21 inches, but it's not working. I either fit the shoulder straps and it rides too high, or I fit to the hip belt and it rides too low.

The hydration sleeve accepts a 13'' Mac Book Air in an Incase padded sleeve.
My philosophical belief that a bag ~30L should be able to do pretty much everything requires that I live with these bags. Commuting, traveling, hiking, running errands, groceries, you name it; taking it everywhere is the only way we discover all the nuances of a pack.
Daily Grind:
 
I've noticed a good deal of dead space at the top of the pack. I'll throw my laptop in the hydration sleeve, place a few folders and documents flush with that, and then throw my rain shell and lunch into the remaining main compartment space. The internal dimensions of the bag are taller than distance from the zipper peak to the floor of the bag. This leaves the difference, all the volume above the zipper peak, pretty much unusable (it's conservatively about 3 liters). You can stuff soft items into this space and still close the bag, and I've definitely maxed out the volume with puffys and hard goods, but the listed volume of 29 liters is more realistically less than 25. It's smaller than expected.
Trail Vibes:
 
When I locked myself into the Kahiltna for my first trail session I was pretty pleased. The hip belt is generously padded and the shoulder straps are really solid. Just the right amount of cushion for long days across mixed terrain. It's a smaller than you'd expect, so the shape of the bag and the pocket placement (while I dislike them) don't effect the performance in terms of how it rides. The stretch mesh pockets on the straps are big enough for a bar/blocks/gu/or a small knife, and the side pockets easily swallow a 1L Nalgene. The tool attachment points and compression straps work well enough together to hold poles and a pad without any issue.
My second experience with the bag was a wet one. The Kahiltna held up just fine to 1/4 inch of rain without using the included rain cover and continues to fill the day hiking role with aplomb. I'm really starting to see this as a trustworthy outdoor lifestyle bag. It's simple, comfortable, and large enough to get you through the day, but small enough that you have to think about what you're packing.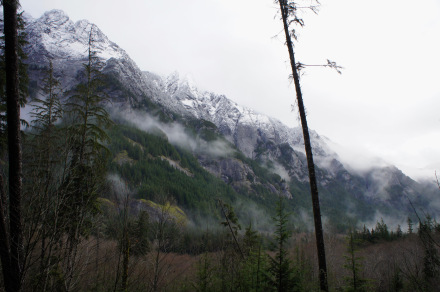 What's good?
 
The back panel and suspension in whole is great. The shoulder straps are some of the best I've seen on a pack this volume, but I wouldn't expect anything less from Granite Gear.
It also comes with an included rain cover. Which I feel like is a bonus these days–when did that stop being something that should be expected and became a feature?
What's not so good?
 
The organization pocket is not as large as I want it to be and it's in the worst possible spot. I know this is a classic daypack configuration, but it's literally the worst spot to put a pocket in terms of load carriage. Move it up higher, make it taller, turn it into an internal compartment, or get rid of it all together. I want the weight high and directly between my shoulder blades, not hanging down and away from my center.
Conclusion
 
I think this makes a great bag for students who are into outdoor pursuits. You get a suspension system that can handle anything you'd want to do for 12 hours and a top quality build from a great brand. It doesn't really have as much usable volume as I think a college/university student would want—but with a padded laptop sleeve and some planning I think it would fit that role nicely. I see this as an enthusiast's bag that can effectively handle a day on the trails and whatever your commute can throw at you.